Courage Kenny Rehabilitation Institute Handiham World Weekly E-Letter for the week of Thursday, 12 November 2015
This is a free weekly news & information update from the Courage Kenny Handiham Program, serving people with disabilities in Amateur Radio since 1967. 
Our contact information is at the end.
Listen here:
https://handiham.org/audio/handiham12NOV2015.mp3
RSS feed for the audio podcast if you use other podcasting software:
http://feeds.feedBurner.com/handiham
Subscribe or change your subscription to the E-mail version here.
---
Welcome to Handiham World.
In this edition: 
Well, this is different! 

A dip in the General Class pool.

This week's remote HF report: W0EQO is ready to move, and W0ZSW has a new antenna tuning procedure.

Check into our nets!

...And more!
---
Here's one thing I've never done before!

Patrick Tice, Amateur Radio operator WAØTDA
Picture this:  I'm holding a handful of ARRL License manuals and on my head is a USB headset with boom microphone.  I'm getting ready to do more recording for our Handiham members.  Perhaps it will be an audio lecture about basic rules and regulations for our unlicensed members who are just beginning to learn about Amateur Radio.  Maybe it will be a more complicated subject like the structure of receivers for our members looking to upgrade to General.  Or maybe it will be a more in depth discussion of the relationship between RMS voltage and peak voltage for our Extra Class students. There have been classes at radio camps, classes at Courage Kenney in Golden Valley and Stillwater, and at libraries and retirement homes. There have been countless hours on the phone, answering questions about the math and physics of radio.  And of course there are the on line classes we have offered on demand via the internet, especially designed for our members who cannot use regular print materials to study.
Yes, I've done a lot of things in ham radio education over the past 25 years, but there is one thing I've never done before, and that is to retire.
Today I want to share this formal announcement with you:
MINNEAPOLIS (Thursday, Nov. 12, 2015) — Pat Tice, Handiham program coordinator for Courage Kenny Rehabilitation Institute, has announced his retirement effective December 11, 2015. Tice has led the amateur radio program for Courage Kenny Rehabilitation Institute since 1991.  ARRL, the American Radio Relay League, is engaged in ongoing discussions with Courage Kenny to ensure that Handiham program services will continue after Tice retires.
Founded in 1914, ARRL is the national association for amateur radio. With more than 161,000 members, it is the largest organization of radio amateurs in the world. ARRL helps people earn their amateur radio licenses; provides continuing education in science, math and technology; and provides operating events and skills training in support of all aspects of amateur radio.
"ARRL is a nonprofit with a mission closely aligned with the Handiham Program," said Tice. 
Courage Kenny's Handiham Program has more than 600 members and more than 200 volunteers, member clubs and associates. For more than a decade Tice has produced a weekly newsletter/podcast "Handiham World," available by email and iTunes, which will cease regular production, at least temporarily, upon his retirement. Weekly nets, the Handiham remote base stations, and Handiham website will remain in place as the program moves forward in 2016. Nancy Meydell, program secretary, will continue in her role in the Handiham Program. Meydell can be reached at 612-775-2291.
Just a few more words on ham radio education:
Whichever of the courses we have taught over the past quarter-century, it has always been my pleasure to be able to help our Handiham members learn about the science, math, and art of radio no matter whether they were just starting out or had been on the air for many years. In the process, I learned plenty, too. The knowledgeable volunteers who helped us out at the Handiham radio shop at what was then Courage Center and at Radio Camp sessions and other events probably forgot more about engineering electronics than I'll ever know! And from our members with disabilities - well, I guess I learned a lot about living life to a good purpose and about reaching goals.
Our donors, most of whom are or were ham radio operators themselves, impressed upon me the importance of sharing something they really loved - Amateur Radio - with others who needed a helping hand. Your kindness and generosity are much appreciated.
Yes, I have done and learned a lot in this work, but as I said, one thing I have yet to do is to retire, and I'm going to do that in mid-December. Because that is only a month from now and there is much to be done, I have to say goodbye to our regular weekly e-letter and podcast. We will continue to provide occasional updates on Handiham.org and other services and activities will continue as usual, including the HF remote base stations and the daily Handiham net. The audio lectures and other resources that are on the website will still be available. Nancy will continue to answer the phone and help to direct you to our resources.
A special thank you to our Handiham Secretary, Nancy Meydell, whose careful attention to providing excellent service to our Handiham members will continue after my retirement!
(For Handiham World, this is Pat Tice, WA0TDA.)
About Courage Kenny Rehabilitation Institute
Courage Kenny Rehabilitation Institute, part of Allina Health, provides a continuum of inpatient and outpatient rehabilitation and community services. We help people achieve health and wellness through providing excellent services, innovative programs, ground-breaking research and barrier-shattering advocacy. Learn more about allinahealth.org/couragekenny or find us on Facebook and Twitter.
Allina Health is dedicated to the prevention and treatment of illness and enhancing the greater health of individuals, families and communities throughout Minnesota and western Wisconsin. A not-for-profit health care system, Allina Health cares for patients from beginning to end-of-life through its 90+ clinics, 13 hospitals, 16 retail pharmacies, specialty care centers and specialty medical services that provide home care, senior transitions, hospice care, home oxygen and medical equipment, and emergency medical transportation services. Learn more at allinahealth.org and join us on Facebook and Twitter.
---
Now it's time for a dip in the pool.
Dip in the pool is back!  This week we are tapping the General Pool for a question about impedances.  It is G5A08, which states:
"Why is impedance matching important?"
Possible answers are:

A. So the source can deliver maximum power to the load
B. So the load will draw minimum power from the source
C. To ensure that there is less resistance than reactance in the circuit
D. To ensure that the resistance and reactance in the circuit are equal
While you are trying to remember what impedance is, let's think about the word "matching".  If you have done much listening on the bands or reading about connecting antennas and feedlines, you certainly have run across conversations about matching one thing to another.  Perhaps impedance was also mentioned in the same conversation.  Anyway, when things are "matched", that means that they are complimentary, fitting together in some way that makes them work together.  A key must match a lock, or the door will not open. A connector on a garden hose must fit, or match with, with a second connector on a faucet for water to flow.   In Amateur Radio, we are always matching things to one another as we connect pieces of equipment and antenna systems.
If you chose answer A, So the source can deliver maximum power to the load, you got this one right.  In radio we are often working with alternating currents, such as radio frequency signals. We want to generate a signal with a transmitter, then get it to an antenna and radiate it over the airwaves.  We connect the transmitter to the antenna with a feedline, such as coaxial cable, with the expectation that the transmitted signal will reach the antenna and be radiated.  For this to take place with any efficiency, we must match impedances.  The transmitter output impedance must match the feedline impedance.  The antenna impedance must match the feedline impedance.  Impedance is basically like the concept of resistance in DC circuits, except for AC circuits. Maximum power transfer takes place when impedances match, which is why most modern transceivers have antenna jacks labeled 50 ohms and the most common coaxial feedlines are also close to a 50 ohm impedance rating.  Antennas vary, but can be matched with baluns that include matching transformers.  A typical flat top half wave dipole will have a theoretical feedpoint impedance of around 73 ohms, so there will be a slight mismatch if 50 ohm coax is connected directly to the feedpoint.  The result will be a slightly elevated SWR reading and some loss of power.  Some of us prefer to install a dipole in the inverted vee configuration, with the highest part of the antenna at the center feedpoint and the two dipole legs running downward at an angle.  This easy little trick lowers the feedpoint impedance without a balun or transformers and makes for a better match. Of course there are plenty of other places to pay attention to impedance matching.  You will want to match microphones to preamps, observing the correct impedances.  You will want to make sure an audio amplifier is matched by the correct headphone or speaker system.
While most of our modern equipment makes matching easy, there are plenty of vintage radios out there that may have different specs and requirements for accessories like microphones.  Always check impedances when checking to pair pieces of equipment.
(For Handiham World, this is Pat Tice, WA0TDA.)
---
November 12 Remote Base HF Update:  W0ZSW and W0EQO are both converted to Remotehams.com RCForb software.  We plan to move W0EQO in the next couple of days, so it is packed up for the move and off the air.
Yesterday saw a massive low pressure system move through the United States, leaving snow in states like Colorado and severe weather in much of the USA Upper Midwest.  At the W0ZSW and WA0TDA location in the Twin Cities east metro, there were strong winds and buckets of rain - 2.39 inches in the gauge.  There was also pea-size hail - unusual for November.  As a result, the stations were offline with feedlines disconnected to protect them from lightning damage.  Service is restored this morning, the 12th of November, as the storm moves into the Great Lakes area and southern Ontario. Earlier this week we had an internet outage for about an hour, but otherwise the stations pretty much were available during the hours of 6:00 AM and 9:00 PM Central time as usual. 
This past week I made a diagnosis of somewhat problematic performance at W0ZSW, which wasn't automatically matching the antenna as expected.  The LDG AT-200PRO antenna tuner is not responding quickly enough to match when you transmit after changing bands.  The solution is to use the TXt key to tune the rig, then use the transmit key to transmit your callsign. I will continue to investigate this issue.  Both W0ZSW & W0EQO TS-480 radios are set to automatically pick the correct sideband according to the band plan.  This convenience helps to assure that the radio will be ready to receive and transmit on the correct sideband after a band change without the user having to manually set the sideband.  Another user note:  W0EQO is set to automatically turn the radio's power off after you disconnect from it.  This means that when you first connect, it is likely to be powered off so you will not hear any sound.  Turn the power on by pressing (clicking) the power button.  Your comments on this procedure, especially from screenreader users, would be appreciated. 

Image:  The Kenwood TS-480HX station.  
W0ZSW is on the air today as our testing continues. In other W0ZSW news, we have added "remote memories", which allows users to check out the memories tab in the software and see which frequencies we recommend.  Clicking on them changes the frequency and mode that is stored in each memory.  Several of our favorites are 3.973 LSB, the "Breakfast Club"; 3.925 LSB, Piconet; 7.258 LSB, MIDCARS road and weather information in the Midwest; 10 MHz AM, WWV; and 14.300 USB, the Maritime Mobile Service Net. My station, the "100W IC-7200 Twin Cities Minnesota" listing in the RCForb software lobby, is also available. 
Transmit access:  You can use the Remotehams.com website to your advantage by uploading a copy of your Amateur Radio license so that station owners can check it if you request transmit privileges on their stations.  The neat thing about this procedure is that once you upload your license, the job is done and you don't have to do it over and over for every new station you want to use. A dialog box will come up in the software if you are connected to a radio and attempt to transmit.  You will be given information about requesting transmit access.  After transmit access is granted, you will be able to transmit.  Please be aware that there is no way for the station's owner to know that you have requested transmit access unless he or she happens to check the requests in the hosting software!  This may not happen for days or weeks if the station owner is busy, forgets about checking, or whatever. The transmit request sits in the host software requests list and absolutely no notification is sent to the station owner.  It may be helpful to send a request by email to the station owner stating that you have requested access to his or her station. There is usually some explanation of the station's use and purpose when you go through the list in the RCForb lobby.  Some stations have a pop-up message with further explanation and details of the station's capabilities once you connect to a station.  Pay attention to these, since they can include instructions for users.  Some stations are reserved for members of a club.  Some are open to any licensed user.  You just have to check the list.
The Remotehams.com website includes a robust user discussion area divided into topics.  There is also on line documentation.  One thing that can be frustrating about trying something new, such as remote HF operation, is that there is a lot to learn about and new users might be impatient about reading the forum posts and documentation.   This is pretty much true when we talk about VoIP enhanced systems like Echolink as well.  But hang in there and do some reading, then don't be afraid to try out the software, learning by trial and error. "Learning by doing" is a time-tested, proven way to learn and retain knowledge.  Here are some useful links:
---
What are you waiting for? Check into our Handiham nets... Everyone is welcome! 
How to find the Handiham Net: 
The Handiham EchoLink conference is 494492.  Connect via your iPhone, Android phone, PC, or on a connected simplex node or repeater system in your area.

You will also find us on the IRLP linked repeater system.  Look for IRLP 9008.
The Handiham Net will be on the air daily. If there is no net control station on any scheduled net day, we will have a roundtable on the air get-together.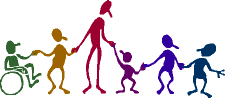 Our daily Echolink net continues to operate for anyone and everyone who wishes to participate at 11:00 hours CST (Noon Eastern and 09:00 Pacific), as well as Wednesday evenings at 19:00 hours CST (7 PM).  If you calculate GMT, the time difference is that GMT is six hours ahead of Minnesota time during the winter.  Note that we do not have a Thursday evening session at this time, that session has been moved to Sunday evenings at 8:00 PM Central Time. 
Doug, N6NFF, poses a trivia question in the first half of the Wednesday evening session, so check in early if you want to take a guess.   The answer to the trivia question is generally given shortly after the half-hour mark.  A big THANK YOU to all of our net control stations and to our Handiham Club Net Manager, Michael, VE7KI.
---
A better backpack for blind users
Ken, KB3LLA, alerts us to a new backpack that allows a blind user to maintain better control of the technology devices and other things that typically are awkward for students or business people to haul around. Traditional backpacks may hold lots of stuff, but they can be hard on your back and posture, while also making the things you want to get at hard to reach.  The blind alive website suggests an alternative:
http://www.blindalive.com/backtpack
---
November Events by N1YXU
This is definitely my favorite time of year. What's not to love about college football, the gorgeous colors in the fall foliage, and the annual Thanksgiving holiday with parades, foods, family and friends? There is also quite a bit happening in amateur radio. Be sure to look through the details listed below.
Have a great month!  Here are your November events.
Regards, - Laurie Meier, N1YXU
---
QST for December is out!
This is not just any digital issue of QST.  It is the one with the holiday gift guide, and a special link to the digital version of the very FIRST issue of QST, which came out 100 years ago in December, 1915.  In that issue, which had a cover price of ten cents, there is an application for ARRL membership.  Aside from the usual name, address, and callsign questions, the form also asked, "Length of your aerial" and "Height above ground".  There were also blanks to answer whether you used a "spark coil or transformer" and "What tone has your spark?"  
Both the 2015 and 1915 issues will make for some pretty good reading.  If you want to start dropping hints to Santa about how good you've been all year long and how you really would enjoy (and deserve) a new radio or accessory, the gift guide starts on page 129 of the digital edition. 
---
New audio: CQ for November in DAISY audio is available this week for our blind members. NLS cartridges for November have been mailed this week. November QST has been published by ARRL and is available to ARRL members as the online digital magazine and in print.  Bob Zeida, N1BLF, has recorded the Handiham digest version for our blind members, and it is ready as a compressed DAISY file for you to download and play on your NLS or other DAISY book player.  Find it in the Handiham members section.
Other audio posted earlier:
The Doctor is In column from November QST has been recorded for our blind members by Ken Padgitt, W9MJY, and is available in the members section this week.
QST digests for September and October in digital have been recorded by Bob, N1BLF.  We have these in DAISY for our blind members.
ARRL General Class License Manual:

Jim Perry, KJ3P, has finished the first three chapters of the new ARRL General Class License manual, recorded for our blind members.  The audio is processed into DAISY for our General students.
Podcast:  If you would like to receive this audio newsletter as a podcast in software other than iTunes, the RSS feed for the audio podcast is:
http://feeds.feedBurner.com/handiham
Email version: Subscribe or change your subscription to the E-mail version here.
Weekly audio reminder: If you are a Handiham member and want a weekly reminder about our new audio, let us know.  Watch for new audio Thursday afternoons.  (Some audio is available only to members.)
Beginner course DAISY download available for our blind members:  We now have the DAISY version of the entire Technician Class lecture series on line for download. 
Some of you have asked about the 2015 General Lecture Series.  The new General pool is used for exams beginning on July 1, 2015.  If you are planning to study for General at Radio Camp in August, you will take your exam based on the new General question pool.  Jim, KJ3P, is helping us with recordings from the new 2015 ARRL General License Manual. 
But you can start studying using the new pool right now! Bob Zeida, N1BLF, has finished the recording of the new 2015 General Class Question Pool and it is in the General Class section in the Members part of the website. 
Thanks to our volunteer readers:
Bob, N1BLF 
Jim, KJ3P
Ken, W9MJY 
---
Membership
You can pay your Handiham dues and certain other program fees on line. Simply follow the link to our secure payment site, then enter your information and submit the payment.  It's easy and secure!
How to contact us
There are several ways to contact us.
Postal Mail:
Courage Kenny Handiham Program
3915 Golden Valley Road
Golden Valley, MN 55422

E-Mail: Nancy.Meydell@allina.com

Preferred telephone: 1-612-775-2291
Toll-Free telephone: 1-866-HANDIHAM (1-866-426-3442)

Note: Mondays through Thursdays between 9:00 AM and 2:00 PM United States Central Time are the best times to contact us.

You may also call Handiham Program Coordinator Patrick Tice, WA0TDA, at: 612-775-2290.

FAX: 612-262-6718 Be sure to put "Handihams" in the FAX address! We look forward to hearing from you soon.
73, and I hope to hear you on the air soon! 
For Handiham World, this is Pat Tice, WA0TDA. 

ARRL is the premier organization supporting Amateur Radio worldwide. Please contact Handihams for help joining the ARRL. We will be happy to help you fill out the paperwork!

The weekly e-letter is a compilation of software tips, operating information, and Handiham news. It is published on Wednesdays, and is available to everyone free of charge. Please email Patrick.Tice@allina.com  for changes of address, unsubscribes, etc. Include your old email address and your new address.